Cruising the Baltic
Having traveled most of Western Europe I wanted to check out Scandanvia and especially Russia. I've wanted to go to Russia since the end of the Soviet Union. We decided that with Kevin going on 4 years old he might be OK on a ship with a consistent place to sleep and things to do. In addition, Jamie had wanted to go to Europe in 2011 but it had not worked out so this seemed like an opportunity to take her to Europe and have someone to look after Kevin as well. I found a ten-day cruise from Stockholm to Amsterdam, with stops in Tallinn, St. Petersburg, Helsinki, Warnemunde, Kiel, and Copenhagen on Holland America.
As soon as they became available, I got frequent-flier tickets DCA to JFK to HEL to ARN for the four of us, Becca and I in Business and Kevin and Jamie in Economy as that is all that was available. The DCA to JFK was on AA and the rest were on FinnAir. On the way back, we had economy tickets on AA from BRU to JFK to DCA. Unfortunately, I was on the early flight from JFK to DCA, Jamie and Kevin on the middle flight, and Becca on the late flight. I got moved to the middle flight in December when mine was cancelled.
I got on the Cruise Critic roll call and in late February started to run the roll call and eventually the Meet & Greet. We formed a group of 16 for a two-day tour of Saint Petersburg with SPb Tours. That was the only port in which we booked a tour. We also planned to get off the ship in Warnemunde and drive to Berlin and head to Hamburg to meet up with Anneke before rejoining the ship at Kiel.
I booked hotels using points and free-night certificates, including: the Doubletree Suites Times Square, three nights at the Sheraton Stockholm, Doubletree Centraal Station Amsterdam, and Radisson Blu Astrid Antwerp. We ended up deciding to stay overnight in Berlin when we learned Anneke could not take the day off to go around with us. So we picked up a pair of cheap rooms at the Park Plaza Prenzlauer Berg Berlin. I also booked a BMW 3-series for our autobahn adventures from Hertz.
I put in a fare request on Cruise Compete and got online pricing from three cruise-only travel agencies. So I watched their prices on the cabins in which I was interested as well as the HAL pricing. About 6 weeks after the Costa Concordia disaster prices on the cruise dropped significantly and I reserved two cabins, an interior and an exterior. I probably should have waited until the prices dropped after final payment but I felt better knowing we had cabins.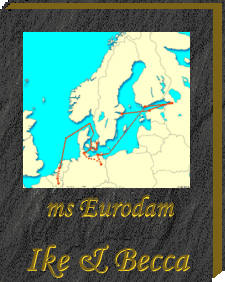 ---

Copyright 2012. John Eisinger. All Rights Reserved.