Morocco
For my sister's 50th birthday, I offered to take her anywhere in the world that she wanted to go. We tossed several ideas around, SouthEast Asia, Iceland, etc. but finally decided on Morocco. I was responsible for airfare and most hotels, and Anne decided what we would be doing and arranged a guide to the Sahara and Riads in Fez and Marrakech.
We timed our trip so that Anneke could come along as well. Due to issues in finding available seats, we flew to Barcelona, met Anneke, spent a day in Barcelona recovering, and then flew to Fez. After a couple of days in Fez, our guide drove us to Erg Chebbe, where we spent a night in the desert, after which, our guide drove us to Dadas Gorge, where we spent the night, and then on to Marrakech. After a couple of days in Marrakech, we took the train to Casablanca, spent a night, and then flew to Lisbon. Anneke then headed home while Anne and I spent a couple of days in Lisbon and visited Sintra before flying home ourselves.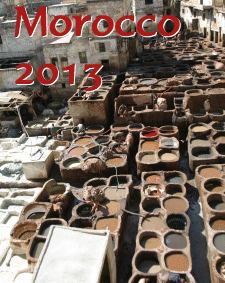 ---


Copyright 2014. John Eisinger. All Rights Reserved.