England 2013
My in-laws had never been to England, or Scotland, and my mother-in-law is very interested in the Tutors and my father-in-law is quite interested in scotch. So, it seemed like a nice idea to take them to England and Scotland.
I used points and miles to cover airfare and hotels and the rest was pay-as-you-go. Of course, since this was a 'Trip of a Lifetime' it only seemed proper to fly First Class on British Airways on the way over, although I was only able to manage Business Class on United on the return. I know, slumming it but what can one do?
Meanwhile, we left Kevin with Allison so that there would be someone to watch the house and feed the cats and Kevin would still be able to go to daycare, so it would not be a radical change for him. Well, other than his parents both being gone.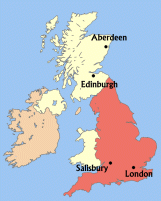 ---


Copyright 2014. John Eisinger. All Rights Reserved.